About Us
Thank you for visiting our website, let us introduce ourselves:
We are Bouwe and Corine Bembom, father and daughter. For many years we have been touched by the love and beauty of the majestic Arabian horse and finally we have been able to do what once began as a dream and are now breeding and keeping our own stable of Arabian horses.
There is just no better thing than being around these beautiful creatures every day.
Bouwe has been riding and living with horses since his childhood. He sold the family business in the leisure industry in 2012 and wanted to start a new challenge together with his daughter. Their mutual love for horses meant that it was a common sense to start collaborating in this business.
Corine's love of horses is a natural progression as she grew up helping and watching her father together with hundreds of ponies. Her entire childhood was spent with horses of all breeds, but her heart has always been with the Arabian horse.
Corine studied hotel management at Hoge Hotelschool Maastricht, Commercial Economics and Horse Business Management at Stenden University, and is responsible for the daily management at the farm as well as for sales and the breeding program.
About the farm.......
At the moment we have around 50 Arabian horses at our farm. This includes a stunning collection of mares, most of them available to view on our website. Besides these beauties that are used for our breeding program, we also have an handsome stallion that is licensed to breed. Furthermore we offer good quality geldings and stallions for riding sports. We sell high quality, homebred horses to Iran, Qatar, Saudi Arabia, Dubai, Bahrain, Kuwait and China. But we also have a lot of clients in the Netherlands, Belgium and Germany. Most clients buy our horses because of their beauty, loving character and all-round quality for multiple disciplines in riding sports.
For an overview of some of the horses we have sold, please visit our gallery.
For our horses currently for sale please visit 'For sale' or contact us directly for more available horses.
Besides breeding we are also active during show season. Every year we choose some of our beautiful stallions and mares to bring out to show. At this time we also showcase our homebred foals. On the individual horse pages you can find more information about our impressive show results.
We just finished with building a luxury stable for our horses. On the photos below you can see the current site.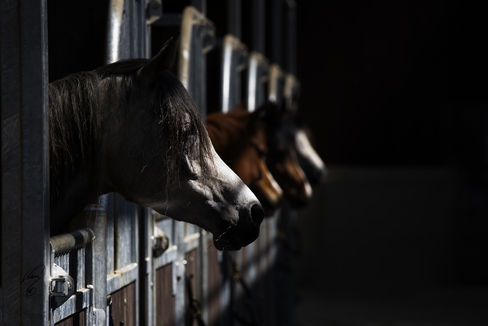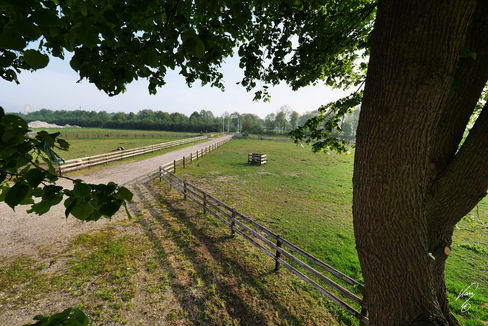 We will keep you updated about our plans!
Please take a look around on our website. Don't hesitate to contact us if wish to visit our farm or for more information about our sales list.
We look forward to meeting you soon.

Best regards,
Corine & Bouwe Bembom
Bembom Arabians